Our Instruments - Innovation, Tone and Affordability!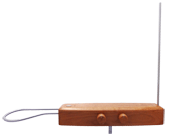 Larger, removable antennas! Craftsmanship, innovation, tone and beauty are the hallmarks of the next generation of the B3 Series.
Limited quantities. Starting at $499.95
SEE Videos - More Info - Order Today!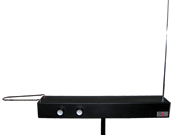 Because you asked for it! Longer case, recessed mic stand mount, built with attention to detail, quality & economy. Don't delay! - Starting at $199.95


Complete theremin with pitch and volume antennas. This is the original B3 Theremin. Ready to play by beginner and pro, the B3 Theremin is a superb value. Get one now!
Starting at $152.00
SEE Videos - More Info - Order Today!

This instrument is modeled after the historic theremin played by Jimmy Page in 'The Song Remains The Same'. Mic stand mounted & rugged, enjoy 5 octaves of playing range! Starting at $83.00

Theremin value without sacrificing quality. This tabletop model features a 5 octave playing range. A favorite of many, our tried & true design is an excellent choice for anyone and everyone! Starting at $82.00

Battery powered - beginner and Pro perfect. Play on the go! Compact, self contained and ready to play, pick up the Handheld Theremin and create your own atmospheric sounds today! It's waiting for you - $79.95


SEE Videos - More Info - Order Today!

Theremin Lessons DVD, Extra Power Supplies, International Power Supplies, T-Shirts - here's where to look for add-ons to your theremin collection.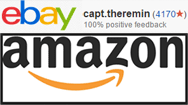 We have happy musicians playing our instruments worldwide. Find out what just a few have said!

Facebook is another resource - Like our page for access to the latest news via social media. Announcements, tips, tricks and links - just for you!

Learn a little bit about this enigmatic instrument.

We love 'our' musicians and showcase them in Archives! Updated regularly, check here to see our instruments in action around the world!

Do I need an amp? How do I get around the international power mismatch problem? Warranty questions? In a quandry? Find many frequently asked questions answered here.