Reviews
Many of our musicians have taken the time to express their opinions about our instruments. Here's are just a few of our customer comments:
Smooth transaction, quick delivery, great item! Thank You!
Buyer: 

yankeeray27

 ( 

54

) 
Very pleasant transaction. Highly recommended seller, Great Thanks AAA*****
Buyer: 

i2c_buyer19

 ( 

4934

) 
| | |
| --- | --- |
| Excellent transaction and equipment! | Buyer:  |
great seller quick shipping great product awesome prices! A+
Buyer: 

danielspiano1

 ( 

95

)
this purchase was one of my best transactions on ebay. I highly recomnd this sel
Buyer: 

aljan78

 ( 

420

)


B3 Theremin
Fast shipping, product exactly as described. Good seller. Will buy again.
Buyer: 

at_tan_0lyycej

 ( 

72

)
Received as described. Excellent!
Buyer: 

jose-ar

 ( 

29

)
Item as advertised, quick shipping, no hassle transaction
Buyer: 

badams048

 ( 

119

)
Great purchase! Seller was awesome and product is fantastic! Thank you!!!!
Buyer: 

langleygreenginger

 ( 

146

)


Zep Theremin
Way awesome!! I will be using this in my Led Zep band immediately!!
Buyer: 

kashmir-2009

 ( 

148

)
this is the real deal does not sound like toy. Jimmy Page!!!!
Buyer: 

rogerhassell

 ( 

245

)
Excellent seller. Great item And Fast shipment. Item packed very well.
Buyer: 

pelt5150

 ( 

229

)
Excellent! Sounds great! Super fast shipping. Fantastic seller! A+++++++++++++++
Buyer: 

hdfxdwg2000

 ( 

126

)
Killer theremin. Very reasonably priced. Great customer service. Thank you!
Buyer: 

bb13add9

 ( 

306

)


Great Sounding Theremin At A Great Price
GREAT!A pleasure to deal with this AWESOME SELLER! The Best! THANK YOU! A++
Buyer: 

witchapril12

 ( 

10420

)
Super-prompt shipper of top-quality item! Thanks.
Buyer: 

cbradley3143

 ( 

880

)
Item was as advertised nice price A+ eBay seller highly recommend
Buyer: 

stylin01.2008

 ( 

157

)
Great product and fast service AAAA++++
Buyer: 

grif6297

 ( 

248

)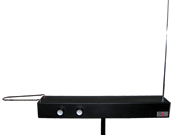 B3 Deluxe Theremin
OK - to be fair, when I used the words "easy to play" in the title, I'm hoping that you, my Dear Readers, are feeling reasonable today, and understand that this is a relative statement. It's a theremin! Having played now a total of three other theremins, I can tell you that this Burns B3 Deluxe is far and beyond the easiest to be musical on sooner. Make sense?

The other theremins were an older Moog Etherwave, a home-built experiment, and one of those classic Moogs with the two square pads. All of them were very difficult, and frankly, I did not like the tone.

The Burns theremin has a lovely singing quality to it, and is easy to modify the sound....from pure, angelic, to roaring distortion - I prefer this to the constant "buzzing" of a more square-wave sounding theremin. I should clarify, however, that all tonal modifications are external to the unit..there is no onboard tone control.

I would not hesitate to recommend this theremin to anyone, experienced or not. While I have not played the smaller versions, I can say that this one is very comfortable. It is easy to set up for the full range, or to narrow it to fit the music being played.

The linearity is good, I feel (whether the relative distance between each note changes in space or not)... the lower notes are farther apart than the high ones, but the relationship is VERY similar to that of a cello (another of my instruments) and makes sense musically. When you tune the instrument higher, the low notes move closer to the pitch antenna, which makes them closer together, and the high notes get even closerer together. Conversely, when you tune it lower, the low notes become farther apart from each other, and the high ones too....and farther out from the antenna. I prefer a range somewhat in the middle, which allows me to play with a little more motion, which feels more expressive (and forgiving).

The build quality is excellent, as far as I can tell. Dan uses quality pots, sturdy retractable antenna, and goes for the simple and elegant approach - this keeps the instrument free of superfluous details that can cause problems, and makes the unit easy to pack up. I would have like to be able to remove the volume antenna, but this is not a big deal.

I have had ZERO problems with any functions. There are some occasions where, if you have a perfect balance of pitch control, volume, and hand positions, there is an unusual "double heterodyning" (my term) sound that is actually really neat. It's hard to do on purpose, but it is an anomaly I wish I could get more of, as well as be able to control it. This phenomenon may have something to do with the gear I have the B3 Deluxe plugged into - hard to tell.

The instrument seems to be stable in that it does not seem to freak out when the temperature varies, and only takes a few short moments to warm up and stabilize for playing. The relative positions of the pitch control knob stays the same whenever I make adjustments, which is very unlike the Etherwave which seemed to like to shift around a bit! This makes it much easier to tune.

What else can I say? This is a great buy. Not only because it's super fun and gives a great tone out of the box or is easily modified to your taste, but for the price you can't go wrong.

Buy one! Buy another for your friend!

Search Youtube for my videos to hear (and see) it in action - simply search for my name and Burns B3 Deluxe!


B3 Theremin
This B3 theremin inspires me to create art. It gets me in touch. It has a sweet sound. I just played Chopin's prelude #4 before. Check out my B3 theremin videos at dvision23 on youtube. Peace.
Amazing gift, June 5, 2014
This review is from: B3 Theremin (Electronics)
The seniors in band, members of my class bought this for our band director. It was technically his last gift for past traditions. He had always wanted a theremin and would have "killed" for it. This is a great instrument to play with. We hooked up guitar pedals to it and made a lot of different effects. I would recommend this as a gift to all musicians.


Zep Theremin
Verified Purchase
just wow! so easy to install and use. we got it to help with the music we make and this just adds so much to everything. currently we use it to help with bow/guitar music. I couldn't believe how easy the whole system is. small so it fits in nicely and isn't in the way.


Great Sounding Theremin At A Great Price
Jack
 on February 26, 2013
I have always been a fan of theremin music ever since listening to Danny Elfman's Mars Attacks theme. After researching where this fantastic sound came from I was a bit let down when I saw how spendy some were selling for. I gave up on it for a while until I started making my own little science-fiction animated movie. I was dying to get some theremin music in there and found this wonderful website called Burns Theremins where they were selling a simple theremin at a price I could afford!
I must honestly say that at first I had my doubts that this one wouldn't sound as good as the more expensive theremins, but when I plugged it in when it first arrived and I started waving my hand around the antenna an enormous, satisfied grin spread across my face. I had a blast making my own songs with this, even recreating the Mars Attacks theme with it. I also had fun playing it in the background during Halloween when kids came to the door.
Five Stars, November 1, 2014
This review is from: Great Sounding Theremin At a Great Price (Electronics)
This Theramin sounds great, and the price is, as well, great.